Past Spendlove Prize Winners
2018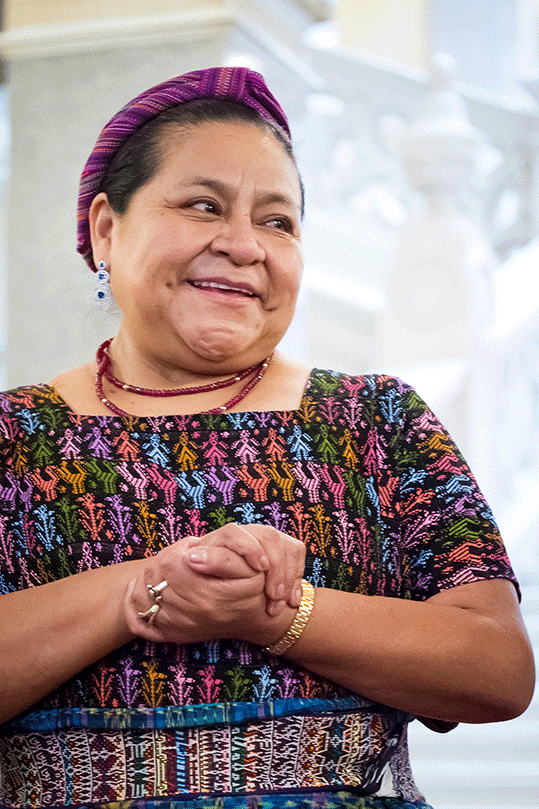 Rigoberta Menchú Tum
The 1992 Nobel Peace Prize winner also won the Prince of Asturias Award in 1998. She is the author of the autobiographical work "Crossing Borders." Menchú Tum is a UNESCO Goodwill Ambassador and ran for president of Guatemala in 2007 and 2011.
Guatemalan Nobelist Announced as This Year's Spendlove Prize Recipient
Nobel laureate Rigoberta Menchú Tum, recognized for her work in social and ethno-cultural reform, has been selected to receive the 2018 Alice and Clifford Spendlove Prize in Social Justice, Diplomacy and Tolerance at UC Merced.
"Rigoberta Menchú is a perfect choice for the Spendlove Prize because she embodies so much of what UC Merced stands for — equality, justice, a place for the underserved and underrecognized, and opportunity despite adversity," Chancellor Dorothy Leland said. "I greatly look forward to welcoming her to meet with our community of students, staff and faculty, as well as members of the Merced community, to share her important work and message."
Menchú Tum — who uses both names specifically to honor her parents — was born in Guatemala to a poor, indigenous peasant family and raised in a branch of the Mayan culture. Her family worked farms in the highlands and along the coast, picking coffee.
The 1992 Nobel Peace Prize winner also won the Prince of Asturias Award in 1998. She is the author of the autobiographical work "Crossing Borders." Menchú Tum is a UNESCO Goodwill Ambassador and ran for president of Guatemala in 2007 and 2011.
She has a long life of service to social justice, dating back to when she was a teenager, when she joined social reform activities through the Catholic Church and became prominent in the women's rights movement.
Her work drew attention and opposition. Her family was accused of taking part in guerrilla activities and Menchú Tum's father was imprisoned and tortured. After his release, he joined the Committee of the Peasant Union, as did she. That year, her brother was arrested, tortured and killed by the army, and the following year, her father was killed when security forces in the capital stormed the Spanish Embassy where he and other peasants were staying. Shortly after, her mother died after being arrested, tortured and raped. Menchú Tum became increasingly active in the CUC, and taught herself English, Spanish and Mayan languages other than her native tongue.
She helped lead farm-worker strikes and demonstrations, and as part of the radical group 31st of January Popular Front, she helped teach the indigenous peasant population to resist massive military oppression.
In the early 1980s, Menchú Tum went into hiding and Guatemala and fled to Mexico, becoming an organizer to resist oppression in Guatemala and advocating for indigenous peoples' rights. She helped found the United Representation of the Guatemalan Opposition and joined the National Coordinating Committee of the CUC.
Her work drew the attention of the Spendlove Prize Committee, which selects honorees from among scholars, authors, artists or other citizens who exemplify, through their work, the delivery of social justice, diplomacy and tolerance in the diverse local and global society.
Campus friend Sherrie Spendlove established the prize in 2005 through a gift to the university in honor of her parents, lifelong Merced residents Alice and Clifford Spendlove, who dedicated their lives to education and public service.
"The Spendloves left us a legacy that exalts education through their teachings," Menchú Tum said. "It is an honor for me to be part of this legacy that will continue to illuminate future generations."
Menchú Tum's work has earned her recognition across the Western Hemisphere generally and several international awards, including the 1996 Nobel Peace Prize.
She also narrated a film about the struggles of the Maya called "When the Mountains Tremble" and is the subject of a book entitled "I, Rigoberta Menchú."
She returns sometimes to Guatemala to plead the cause of the indigenous peasants, but death threats keep her in exile.
"Rigoberta Menchú is a courageous crusader, at great personal peril, for basic human rights for her people — the indigenous populations of Guatemala. She has campaigned against the cruelty, greed and ignorance of those in power who deny them the basic right to exist, to eat, work and live," Spendlove said. "The government authorities have done this by the theft of their native land, the destruction of the natural ecosystem upon which their civilization depends, by the mass murder and widespread rape and torture of the indigenous population, and by wiping out entire families and communities, their centuries-long traditions and their entire way of life."
Menchú is in good company with past Spendlove Prize recipients, including Native American activist and author Winona LaDuke; Professor Anita Hill, attorney and professor of social policy, law and women's studies; slain Civil Rights activist Viola Gregg Liuzzo; Pulitzer Prize-winning poet Peter Balakian; California Supreme Court Justice Cruz Reynoso; President Jimmy Carter; Sara O'Meara and Yvonne Fedderson, who founded Childhelp USA; Jonathan D. Jansen, South Africa's first black dean; Professor Faye J. Crosby, an expert in inclusiveness, gender, race and affirmative action at UC Santa Cruz; John Y. Tateishi, the leader of the successful struggle for reparations for Japanese-American internees; and Charles Ogletree, Jr., a Merced native, Harvard Law School professor, social justice and ethics expert and constitutional law scholar.
"An internationally-recognized spokesperson and ambassador for human rights, Rigoberta Menchú has dedicated her entire life to the defense and support of indigenous people and women," School of Social Sciences, Humanities and Arts (SSHA) Dean Jill Robbins said. "She is an inspiring world leader, one who embodies the values that the Spendlove Prize seeks to recognize."
Robbins leads the Spendlove Prize Selection Committee, which includes Sherrie Spendlove, an undergraduate student; a graduate student; a faculty member; and representatives from the UC Merced community. The Prize includes a $10,000 award.
Menchú Tum will accept her award at a public ceremony beginning at 6 p.m. Nov. 5 at the Merced Theater, and will deliver a keynote address. She will also spend time with students on campus that day, as well as attending a private reception with Chancellor Leland, among others.
2017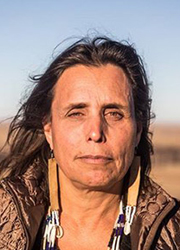 Winona LaDuke
LaDuke's lifelong dedication to social change, justice, equity and the environment alongside indigenous communities earned her the 2017 Spendlove Prize. A prolific author, LaDuke is most recently known for speaking on behalf of the resistance camps in North Dakota as people stood against the Dakota Access Pipeline project, trying to protect water, land and sites that are sacred to indigenous people. She is a leader on the issues of cultural-based sustainable development strategies, renewable energy and sustainable food systems, helped found the Indigenous Women's Network and worked with Women of All Red Nations to publicize forced sterilization of Native American women, as well as founding the White Earth Land Recovery Project (WELRP) in Minnesota to buy back land within the reservation that had been bought by non-natives.
2016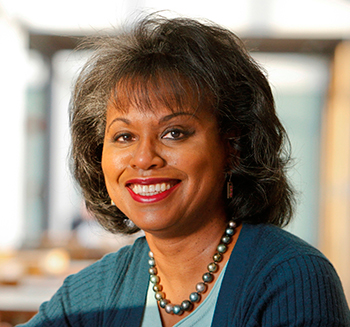 Anita Hill
Hill's public testimony during the 1991 Senate confirmation hearings for then-Supreme Court nominee Clarence Thomas thrust her into the national spotlight and raised national awareness of sexual harassment. The hearings — portrayed in the 2016 HBO film "Confirmation," with Kerry Washington starring as Hill — are considered a watershed moment for women's rights and led to changes in workplace laws and practices to protect women and men from harassment. Hill has been an advocate for equality and social justice for decades. She is an attorney and professor of social policy, law and women's studies at Brandeis University and a faculty member of Brandeis' Heller School for Social Policy and Management.
2014

Viola Gregg Liuzzo
Viola Gregg Liuzzo, a civil rights activist who was killed by the Ku Klux Klan while driving another activist home from the Southern Christian Leadership Conference in March 1965, has been named the 2014 recipient of the Alice and Clifford Spendlove Prize in Social Justice, Diplomacy and Tolerance.
A wife and mother of five children ranging in age from 6 to 18, Liuzzo left her Detroit home in spring 1965 to work with Martin Luther King Jr. to register black voters in Selma after seeing news about a police attack on 600 civil rights workers as they tried to march from Selma to Montgomery. The day after Liuzzo's murder, President Lyndon B. Johnson appeared on television to announce that her four killers had been caught. Despite efforts by the FBI to discredit her for being in the car with a black man, 350 people attended Liuzzo's funeral, including King, and her murder led Johnson to order an investigation into the KKK.
It is believed that her activism and death helped hasten the Voting Right Act of 1965 signed by President Lyndon B. Johnson. Liuzzo's story has been the subject of several books and a documentary. She is among the 40 civil rights martyrs honored on the Civil Rights Memorial in Montgomery and she was inducted into the Michigan Hall of Fame in 2006.
2013
Jonathan D. Jansen
Jonathan D. Jansen, vice chancellor and rector of the University of the Free State and South Africa's first black dean, is the first international recipient of the Spendlove Prize. 
Jansen is widely known for his policy of "reconciliation over revenge" in the manner of Nelson Mandela and Desmond Tutu. He also serves as president of the South African Institute of Race Relations. His book "Knowledge in the Blood" offers an intimate look at the effects of social and political change after apartheid. He reveals the important role education played in confronting the past, as well as critical theory's limits in dealing with conflict in a world where formerly clear-cut notions of victims and perpetrators are blurred. The book, published in 2009, received an outstanding book award from the American Educational Research Association.
Professor Jansen holds a Ph.D. from Stanford University, has received honorary doctorates of education from the University of Edinburgh and Cleveland State University, and is an honorary professor of education at the University of Witwatersrand in South Africa. He is a fellow of the American Educational Research Association and the Academy of Science of the Developing World. He is also a visiting fellow at South Africa's National Research Foundation.
2012

Peter Balakian
Peter Balakian, a 2016 Pulitzer Prize winning poet and a leading voice of Armenian Genocide recognition, is the Donald M. and Constance H. Rebar Professor of the Humanities in the department of English at Colgate University. 
Balakian is the author of the memoir "Black Dog of Fate," winner of the PEN/Albrand Prize for memoir and a New York Times Notable Book. In the book, Balakian writes about learning what his family and ancestors experienced with the Turkish government's extermination of more than a million Armenians in 1915, including many of his relatives. The massacre led to the creation of the word "genocide" and served as a template for Nazi Germany's Holocaust. He also wrote "The Burning Tigris: The Armenian Genocide and America's Response," which won the 2005 Raphael Lemkin Prize and is a New York Times best seller. In thHe has received numerous awards, prizes and civic citations, including a Guggenheim Fellowship and a National Endowment for the Arts Fellowship, all of which relate to his research and activism on the topic of the Armenian Genocide.
2011
Cruz Reynoso
Cruz Reynoso has devoted his life to eradicating discrimination. Driven by his upbringing as the son of farm workers in California's Central Valley, Reynoso chose to pursue a career in law advocating for immigrant rights.
He was the recipient of the Presidential Medal of Freedom, the nation's highest civilian honor, for his lifelong devotion to public service, as well as a recipient of the Distinguished Public Service Award from UC Davis. He is celebrated as the first Latino associate justice of the California Supreme Court. He has served on the California Third District Court of Appeals.
From 1994 to 2004, he served as vice chair of the U.S. Commission on Civil Rights. In addition, he has served on numerous federal, state and professional boards supporting civil rights, social justice and education. Reynoso has been on the faculty as a professor of law at the University of New Mexico, the University of California, Los Angeles, and UC Davis.
2010
Jimmy Carter (James Earl Carter Jr.)
Jimmy Carter, the 39th president of the United States, is known to the world as a human rights advocate.
As president, he attempted to lead the country out of an energy crisis and delivered his famed "Malaise" speech asking the nation to keep confidence in their potential.
He promoted diversity and multiculturalism at every level, including appointing those of different ethnic, racial and religious backgrounds to fill the most prestigious offices in Washington, D.C. He continues to be an outspoken voice of the people in all issues foreign and domestic, and has written nearly 25 books. His continued perseverance won him a nomination for the Nobel Peace Prize in 2002.
2009
Faye J. Crosby
Faye J. Crosby is an author, professor of social psychology and provost at UC Santa Cruz and activist who, in her work, exemplifies the delivery of social justice, diplomacy and tolerance in the diverse local and global society.
A University of California, Santa Cruz, professor of social psychology since 1997, Crosby investigates both the dynamics of and remedies for sex and race discrimination. She has been on the faculty at Rhode Island College, Yale, Smith College and The Kellogg School of Management. A prolific writer, her most recent books include "Affirmative Action, is Dead: Long Live Affirmative Action" and "The Psychology and Management of Workplace Diversity."
Balancing her academic work, Crosby is committed to the profession of psychology and to the application of psychology to social problems. Crosby has fulfilled leadership roles in many institutions and is the founder of Nag's Heart, an organization that supports women and men who work for gender equity. Crosby has been honored for her scholarship and her activism. She was the recipient of numerous professional awards including the Carolyn Wood Sherif Award and the Kurt Lewin Award, both from the American Psychological Association.
2008

Sara O'Meara and Yvonne Fedderson
Childhelp founders Sara O'Meara and Yvonne Fedderson have displayed a lifelong commitment to helping children in need.
O'Meara and Fedderson started Childhelp USA as International Orphans Inc. (IOI) in 1959. The two women were young actresses participating in a goodwill tour of Asian countries when they discovered the plight of orphans on the streets of Tokyo. Their efforts to help these children evolved into an organization, which for 15 years operated four orphanages in Japan, plus five orphanages, a children's hospital and a school in Vietnam.
In the mid-1970s, O'Meara and Fedderson turned their focus to the problem of child abuse in America and the organization subsequently was renamed Childhelp USA. They established the leading national nonprofit organization to help victims of child abuse and those at risk of such crimes.
O'Meara and Fedderson were instrumental in establishing the National Day of Hope, which mobilizes people across the U.S. each April during National Child Abuse Prevention Month to join the fight against child abuse.
2007

John Y. Tateishi
John Y. Tateishi, an activist for civil rights, has been involved with Asian American communities for nearly 30 years, gaining national prominence in 1978 when he launched a national campaign to seek redress for Japanese Americans interned in U.S. detention camps during World War II.
As the National Redress Director of the Japanese American Citizens League (JACL), Tateishi crafted the legislative and public affairs strategies of the campaign that successfully culminated in 1988 with an apology from the president and Congress, and monetary redress for internment victims.
From 1999 to 2006, he served as national executive director of the Japanese American Citizens League, the nation's oldest and largest Asian American civil rights organization, undertaking the challenge of shepherding the 73-year-old organization into the new millennium.
He has appeared before public audiences throughout the country as well as in the media; authored "And Justice for All," an oral history of the World War II internment of Japanese Americans; and served as a contributing author to "Last Witnesses," a collection of essays by the children of the WWII internment camps.
2006

Charles J. Ogletree Jr.
Charles J. Ogletree Jr. is a Merced native who is now a Jesse Climenko Professor of Law and the founding executive director of the Charles Hamilton Houston Institute for Race and Justice at Harvard University.
Ogletree has made an international reputation by taking a hard look at complex issues of law and working to secure the rights guaranteed by the Constitution for everyone equally under the law. In addition, he serves as co-chair of the Reparations Coordinating Committee, a group of lawyers and other experts researching a lawsuit based upon a claim of reparations for descendants of African slaves.
Ogletree is co-author of "Brown at 50: The Unfinished Legacy," which commemorates the 50th anniversary of Brown v. Board of Education. In his historical memoir, "All Deliberate Speed: Reflections on the First Half-Century of Brown v. Board of Education," Ogletree examined the effect the "Brown" decision had on him and his family.