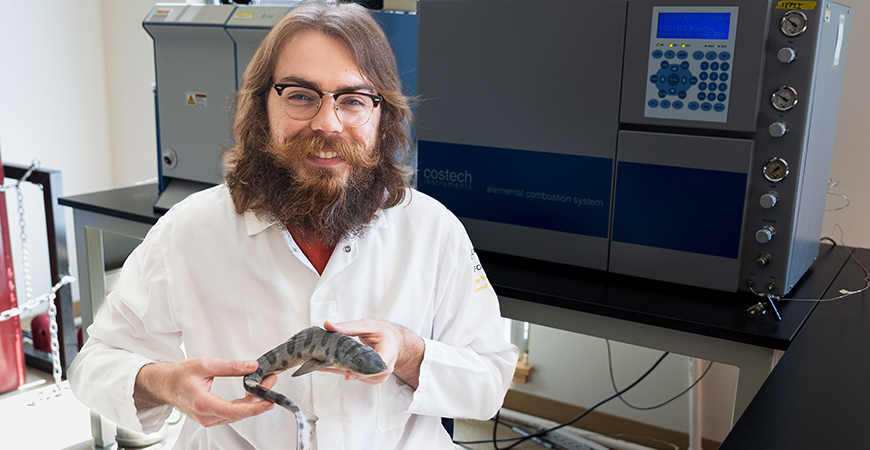 Leopard shark (Triakis semifasciata) populations in the San Francisco Estuary (SFE) are experiencing extreme decline in recent years, causing concern for coastal ecosystems.
With funding from a National Oceanic and Atmospheric Administration (NOAA) California Sea Grant Graduate Research Fellowship, Ph.D. student Jonathon Kuntz, in the Environmental Systems Graduate Group, hopes to figure out the cause of the decrease and to further add to the field of shark conservation.
California Sea Grant recently announced more than $1.5 million in federal funding to support 14 new research projects from 2022 to 2024. California Sea Grant prioritizes supporting the next generation of early career scientists focusing on applied research. Funding graduate research fellowships expands the number and diversity of researchers who can launch their scientific careers to help develop practical scientific results that will inform future management.
"It is extremely validating to receive NOAA's California Sea Grant Graduate Research Fellowship and to have my ideas supported," Kuntz said. "Coming from a small rural and agricultural community in the middle of the country, a career path in marine conservation was only a dream.
"This is a huge steppingstone for me, and I am grateful that Sea Grant has identified this project as an important piece of research for shark conservation."
Before the Ohio native joined UC Merced, he received a bachelor's degree in environmental and organismal biology from the University of Utah.
As a stable isotope ecologist in Professor Sora Kim's lab, he is studying how humans are altering food web dynamics for sharks higher up in the food chain.
Stable isotope ecology follows the age-old saying, "you are what you eat," Kuntz said. When animals consume their prey, the chemistry — or stable isotope composition — is incorporated into the predator's tissues.
"Chronological shark tissues such as teeth, vertebrae and eye lenses record stable isotope compositions through time, allowing us to infer movement and trophic interactions across seasons and even the entire lifetime of the shark," Kuntz said. "This is particularly important in California because one of the state's largest leopard shark populations resides in the SFE and is subject to wastewater effluent discharge from 38 wastewater treatment facilities, each with a design flow of over 10 million gallons per day, which has heavily altered nutrient loads."
This is a huge steppingstone for me, and I am grateful that Sea Grant has identified this project as an important piece of research for shark conservation.
Kuntz said previous studies have attributed a change in nitrate and ammonium levels in the SFE to this wastewater discharge, which may have caused the collapse of pelagic fish communities. His research investigates whether these high pollution levels are affecting leopard shark dietary and migratory behaviors. With the Kim lab, he is working to characterize the species' life history diversity within California's northern population by leveraging stable isotope analysis (SIA) and compound-specific SIA of amino acids (CSIA-AA).
"Jon had this idea when he applied to work with me as a master's student. It was clear early on that he thought of projects on a Ph.D.-scale, so he made the switch to pursue a doctoral degree," Kim said. "The California Sea Grant Graduate Fellowship is an incredible accomplishment for a graduate student. I am grateful for the opportunity to work with Jon on this exciting project that delves into important biological questions spanning from physiology, ecology and human impacts."