UC Merced public health graduate student Erendira "Dida" Estrada's master's thesis, "Development of a participatory health communication intervention: An ecological approach to reducing rural information inequality and health disparities," was named Thesis of the Year by the Health Communication divisions of the two most prestigious associations in communication — the International Communication Association (ICA) and the National Communication Association (NCA).
"I feel honored and ecstatic to receive this award," Estrada said. "It is a welcome surprise and verifies that the research I am interested in is important and should be pursued."
She was honored in Prague last month at the annual meeting of the ICA and will be recognized in November at the NCA annual meeting in Salt Lake City.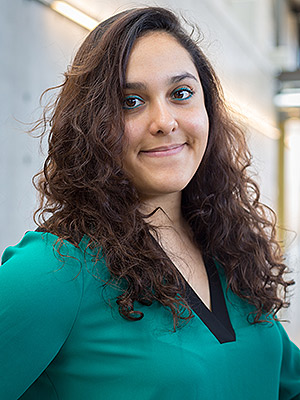 Estrada's thesis is the result of a project funded by the Centers for Disease Control and Prevention through the Merced County Department of Public Health. It represents an innovative application of ecological communication theory.
"The award recognizes the importance of using communication methodologies as a bridge between researchers and the community to work toward reducing information inequality and health disparities together," she said.
Estrada's award-winning thesis extends the first research project she worked on as a psychology major at UC Merced, which found that little health information is accessible across Merced County. Additionally, she and her research team found that while residents were frustrated by a lack of health information, stakeholders and organizations that had information to disseminate were frustrated because they didn't know how best to reach vulnerable populations.
Estrada's thesis project aimed to address both concerns.
"This was an incredibly difficult project to take on," her advisor Professor Susana Ramirez said. "There is limited precedent for this kind of intervention, and even fewer examples for how to write up something like this."
In addition to receiving this top honor, her manuscript is also under review at the leading publication in the field, the Journal of Health Communication.
"I hope this type of research continues to be explored and conducted more often in the future," Estrada said.