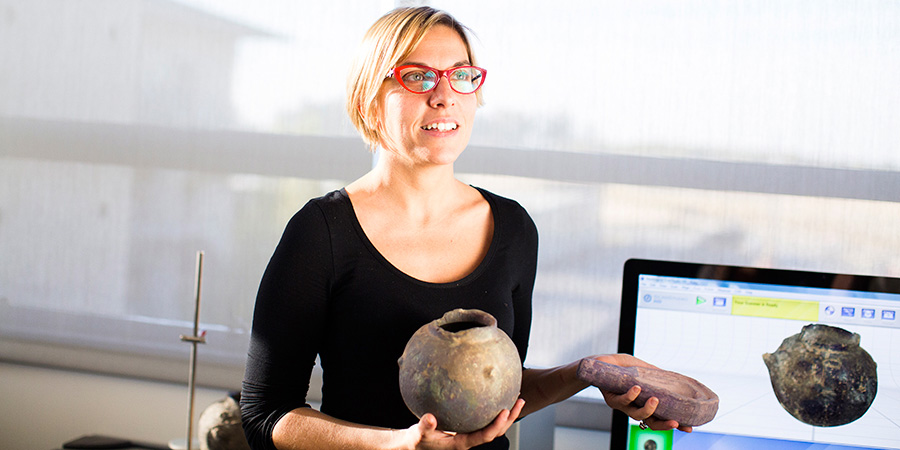 The Political Science Ph.D. program offer students quantitatively focused graduate training intended to prepare them for research careers. The program is distinguished from other political science Ph.D. programs in a number of ways. First, the program does away with traditional subfield boundaries that restrict innovation and interdisciplinary research. Instead, our program trains students in two broad areas: Political Cognition and Behavior (CAB) and Political Institutions and Political Economy (PIPE). Second, the program provides one-on-one research training for all students starting in the second year of study. Third, the program is intentionally small to ensure that all students receive the financial support, attention and mentorship necessary for successful careers. The program is research intensive, innovative and tailored to students' individual interest within the field.
The Cognitive and Information Sciences (CIS) Ph.D. program offers students interdisciplinary training in cognitive science with an emphasis on computation, technology and applications. This emphasis distinguishes it from other cognitive science graduate programs. UC Merced researchers view intelligent behaviors not just as emerging solely from neural processes, but from interactions between brain, body and environment. Thus intelligent behaviors may also emerge from group and social interactions situated in their economic and technological milieu.
The Psychological Sciences Ph.D. program emphasizes a strong base of coursework, including methods, statistics and a one-year professional seminar covering the breadth of psychology; this base is supplemented by more specialized work in one or more of these three areas: developmental psychology, health psychology or quantitative psychology. Students are actively engaged in research from the start of their graduate training through to the end of their doctoral work. Each student's research emphasizes close work with a faculty mentor, with increasing independence over the years of training.
The graduate program offers individualized, research-based courses of study that explore cultures in both their local manifestations and in a global context. The Interdisciplinary Humanities Graduate Group (IHGG) is an innovative M.A. and Ph.D. program that incorporates anthropology, the arts, history, and language and literature. Students explore and apply the methods by which historians, literary scholars, anthropologists, artists, philosophers, scholars of cultural studies, and other humanists and social scientists examine societies and cultures. Thus the program exposes students to many humanities professions and trains students to engage the public.
The graduate emphasis in Social Sciences — Public Health offers Ph.D. students individualized training with our diverse faculty, mentoring students to conduct transdisciplinary, community-based research to address health issues that are important to vulnerable populations in rural areas. Some examples of current research areas include chronic disease prevention, reducing health disparities, environmental health, Latino health, cancer, and health promotion and behavior change. These areas of study are part of our emphasis in prevention sciences, a transdisciplinary course of study that gives students the skills and training they need to address pressing public health problems.
The UC Merced graduate program in Sociology is distinctive in that it provides intensive mentoring and personalized attention to small cohorts of accepted students. Our faculty members study a unique combination of topics, including social inequality (race, class, gender, sexuality), political participation and social movements, health, immigration and education, which are synergistic and relevant to contemporary issues facing the nation and beyond.
Last Updated: June 2016