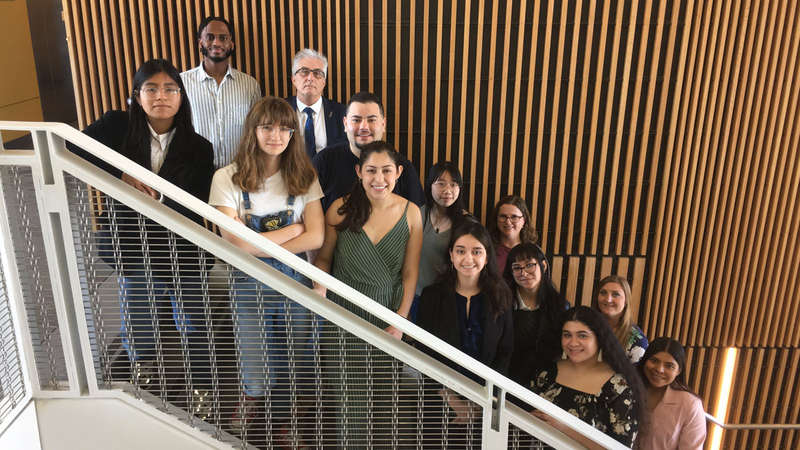 On Friday, May 13th, the School of Social Sciences, Humanities and Arts hosted a luncheon with Dean Jeffrey Gilger, Associate Dean Anne Zanzucchi and 11 of its outstanding graduating students.  Each student was selected based on their excellence in six areas of accomplishment: 
Graduated in Fall, Spring or Summer 2022
A cumulative GPA of 3.5 or higher as of Fall 2022 
Examples of significant research activities
Examples of leadership initiatives
Service to UC Merced and the community
Clear Judicial Affairs Record
 
2022 Outstanding Graduating Student recipients:
Jasmin Sandoval Bustamante: with a major in Psychology, Jasmin was an Honors program student; worked as a research assistant in Eric Walle's lab; served as a special education aid in local elementary schools (where she helped children with special needs cope with the challenges of learning remotely during the pandemic); and, much more.
Melissa Escalera: with a major in Spanish, Melissa researched political dissident immigrants in the US and US Latinx women's access to higher education; was a treasurer of the Catholic Newman Club; participated in community events hosted by local parishes and invited other students on campus to volunteer; was an active member of Sigma Delta Pi, a national collegiate Hispanic honor society; successfully applied for a community outreach program (STAND) to receive funds for this project; participated in the Student Philanthropy Month Yosemite Lake clean-up hosted by UC Merced's Community Engagement Center; and, much more.
Elena Velasquez Gomez: with a major in Management & Business Economics, Elena completed her degree requirements in just 3 years; served as Executive Vice President of Business Society running their Human Resource Department; served as treasurer of the Economics Club; served as Marketing Ambassador for the Merced County Hispanic Chamber of Commerce; worked with the California Student Opportunity Access Program (Cal-SOAP) funded by the Merced County office of Education; worked as an Accounting and Internal Audit Intern at Yosemite Farm Credit; worked in the Finance Department at Gallo upon graduation; and, much more.
Karen Zavala Guevara: with a major in Global Arts Studies, Karen was the president of the Young Artists
Isaac Jones: with a major in Critical Race and Ethnic Studies, Isaac was on the Chancellor's Honors List, is pursuing his goal of attending law school; was a member in Black M.E.N. of SCC at Solano Community College; was in a leadership role as Vice President of "Afrikans for Retention and Outreach" at UC Merced; and, much more.
Hannah Morse: with a major in Cognitive Science, Hannah was a Research Assistant in Colin Holbrook's lab; contributed to the design and research protocols of two laboratory studies investigating Human-Robot Interaction in the context of high-stakes decision-making under uncertainty; devoted time each week to helping with an after-school program at a local elementary school; and, much more.
Jorge-Rodriguez Mota: with a major in Political Science, Jorge-Rodriguez founded "First Bound" in high school (helps first-generation students navigate the college application process); participated in the political science honors program; was on the Dean's List; was President of Student Government; initiated and helped pass a resolution condemning hate crime against members of the Asian American and Pacific Islander community on campus; hopes to work as a high school teacher; is contemplating law school; is pursuing a Master's degree in history; and, much more.
Sandy Rubio: with a major in Public Health, Sandy is a first-generation college student; was a research assistant for Sandie Ha and compiled research on adverse pregnancy outcomes among women with disabilities; conducted research at the Nicotine and Cannabis Policy Center (NCPC) at UCM; planned city-wide cleanup projects every six months in Firebaugh, CA; served as the Vice President of Membership for the Premed Central Club; aspires to obtain a PhD in epidemiology to study environmental contributors of health disparities; and, much more.
Yulissa Torres: with a major in History, Yulissa was on the Dean's Honor List; received the Frances M. Benton Scholarship; was a UROC-H scholar with Professor Ma Vang in Summer 2021; worked on the Refugee Teaching Institute, an initiative to train current secondary public-school teachers in the Central Valley to incorporate refugee stories in their curricula, specifically in social studies classes; was a STEP scholar at UC Merced; and, much more.
Bee Yeffet: with a major in Philosophy, Bee is considered an excellent writer; is adept at helping her group-mates understand the philosophical background of the readings; is an undergraduate member of the Chancellor's Committee on Queer Issues (CAQCI) for AY 2021-2022; and, much more.
Ying-Wei Zhang: with a major in English, Ying-Wei was an Honors Thesis Program scholar 2021-2022 Academic Year; a Residence Hall Association (RHA) member of the Community Council and a member of the Executive Board, a Vice President of Communications; an actor in the Vagina Monologues in Spring 2020; the first editor of the EarthShakes website, and social media director; and, much more.
Each recipient received a medal to be worn that their commencement ceremony, a certificate of accomplishment and had a special mention in the Spring 2022 commencement program.