On Monday, UC Merced's Center for the Humanities and Merritt Writing Program, in association with Project Big Top, will present a staged reading of "The Laramie Project" by Moisés Kaufman and the Tectonic Theater Project. Curtain is at 8 p.m. at Vault Works in downtown Merced. Admission is free.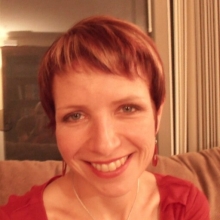 In 1998, the world followed the story of Matthew Shepard, a gay college student in Laramie, Wyo., who was the victim of a hate crime. Following his death, several members of the Tectonic Theater Project traveled to Laramie and recorded more than 200 hours of interviews with those who lived there. This play investigates the community's response to the event.
This stage reading takes place on the 17th anniversary of Shepard's death and the day after National Coming Out Day. October is also LGBT History Month.
Project producer Dawn Trook came up with the idea while re-reading "The Laramie Project" after she assigned it to her playwriting students earlier this semester.
"I've always loved this play — it's so moving and important," she said.
She noticed the anniversary of Shepard's death and asked her students if they'd be interested in participating in a staged reading. Two of them offered to co-direct.
English major Sologne Patterson and political science major Anthony Ortiz have led 26 members of the community who are reading 60 different characters.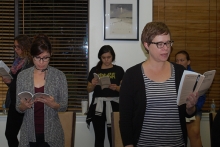 The project is co-produced by Project Big Top, a portable production company run by Trook. The mission of the organization is to provide an encouraging, collaborative environment for the development of risk-taking literary and performing artists and the production of socially relevant creative works with an aim to develop community engagement and empowerment.
Many of the participants, such as English Professor Katie Brokaw, were interested in the social significance of this play.
"Matthew Shepard was killed the first semester of my freshman year of college," Brokaw said. "And it was an event that changed my life and my sense of social justice forever."
Other participants joined the team because they wanted to engage with their community in a new way. Hannah Maulden, a new graduate student in the Interdisciplinary Humanities program, said this is her first local project.
"'The Laramie Project' in particular is a great play to get involved with, as it provides a great opportunity for community engagement and awareness of the importance of diversity and acceptance," Maulden said.
This staged reading of "The Laramie Project" will begin at 8 p.m. Monday at Vault Works Merced, 1666 N St. For information: 415-728-2488 or dtrook@gmail.com