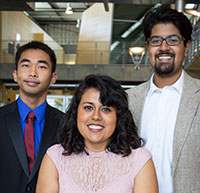 Three seniors have been selected to receive the 2014 Outstanding Graduating Student Award. This is the first year the School of Social Sciences, Humanities and Arts has designated such an award.
Anupam Dhillon (economics and management), Maria de Jesus Martinez Mora (sociology) and Joshua Espano (cognitive science) will receive special recognition in the May 18 commencement program. Their families have also been invited to attend a private awards luncheon in mid-May.
"SSHA is filled with students working every day on research projects with real-world implications and who involve themselves with the university and local communities," said Dean Mark Aldenderfer. "The purpose of this award is to showcase the high achievers in our graduating classes and to elevate them among their peers."
To qualify for the award, nominees must have demonstrated significant research activities, leadership initiatives and an established track record of volunteer service to the university and its surrounding community. Qualification for graduation and a minimum cumulative GPA of 3.2 were confirmed before the final winners were selected.
Dhillon, for example, has worked as a research assistant for political scientists Nathan Monroe and Courtenay Conrad and was even named as co-principal investigator on a grant proposal submitted by the professors. Though the proposal wasn't funded, such an achievement is rare for an undergraduate student.
Among Dhillon's volunteer activities, he worked with the Boys and Girls Club to tutor students in math, science and reading. And, he was a member of the UC Merced's chapter for the UC Haiti Initiative. This initiative was part of a partnership with the State University of Haiti to create solutions for the many challenges that Haiti faced after its 2010 earthquake.
Professor Paul Almeida, who nominated Mora, said she has clearly stood out in a competitive field of top undergraduates. "Maria is one of the best undergraduates I have worked with in my 12 years as a sociology professor," he said.
As Almeida's research assistant, Mora coded several sets of materials on social movements, elections and poverty in Central America. She also independently collected information on crucial political campaigns in Guatemala, Colombia and Costa Rica to support the research.
Espano has spent most of his undergraduate career as a research assistant in the psychology labs of Professors Rose Scott and Eric Walle, and in the cognitive science lab of Professor Rick Dale. These opportunities have given him experience in the study of children's social cognition, emotional development in infancy and the nature of adult conversation.
As an editor of UC Merced's Undergraduate Research Journal, Espano works to help students understand why publishing their research in a campus publication can benefit them in their post-graduate careers.