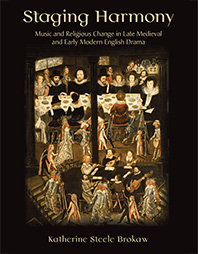 Date of Publication: Autumn 2016
About the book:
In Staging Harmony, Katherine Steele Brokaw reveals how the relationship between drama, music, and religious change across England's long sixteenth century moved religious discourse to more moderate positions. It did so by reproducing the complex personal attachments, nostalgic overtones, and bodily effects that allow performed music to evoke the feeling, if not always the reality, of social harmony. Brokaw demonstrates how theatrical music from the late fifteenth to the early seventeenth centuries contributed to contemporary discourses on the power and morality of music and its proper role in religious life, shaping the changes made to church music as well as people's reception of those changes. In representing social, affective, and religious life in all its intricacy, and in unifying auditors in shared acoustic experiences, staged musical moments suggested the value of complexity, resolution, and compromise rather than oversimplified, absolutist binaries worth killing or dying for.
About the Author:
Katherine Steele Brokaw received her PhD in English from the University of Michigan in 2011. In addition to writing Staging Harmony, she has also published articles and reviews in Shakespeare Bulletin, Comparative Drama, Literature Compass, and Pedagogy, and in the collection Beyond Boundaries: Rethinking Music Circulation in Early Modern England (Indiana University Press, 2017). She is co-editor, with Jay Zysk, of Rethinking the Secular in the Age of Shakespeare, currently under review. She is currently editing Macbeth for the Arden performance editions series, and writing a monograph on community Shakespeare. At UC-Merced, she teaches medieval and early modern literature, world drama, performance theory, and children's literature. Dr. Brokaw is co-founder of Shakespeare and Yosemite, which debuted in April 2017 with an original play performed in Yosemite National Park featuring scenes from Shakespeare and the writings of John Muir. The company will perform A Midsummer Night's Dream in the Park in April 2018. She also co-directs and co-produces UC-Merced's annual children's opera, which brings 3500 area schoolchildren to campus every May to experience live opera in Lakireddy Auditorium. She acts, directs, and dramaturges in California's Central Valley and, increasingly, around the world as well. 
Link for Katie Brokaw's webpage: https://faculty1.ucmerced.edu/kbrokaw
Link to buy the book: https://www.cornellpress.cornell.edu/book/?GCOI=80140100043560