Submitted by tkubo on Feb. 11, 2013
UC Merced's graduate emphasis in Social Sciences offers students the opportunity to build unique interdisciplinary research careers based in economics, political science, public health and sociology. By offering students the opportunity to collaborate with researchers in other disciplines, our program provides an environment where modern issues can be examined from multiple perspectives. Here's a small sampling of the research explored by our faculty: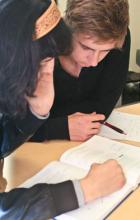 Students pursuing graduate study in social sciences will be exposed to research opportunities that explore the hows and whys of societal issues in a way not usually found at other universities. Our researchers don't just dissect outcomes, they explore the behaviors associated with those outcomes in a way that creates new knowledge on emerging and established topics of concern.