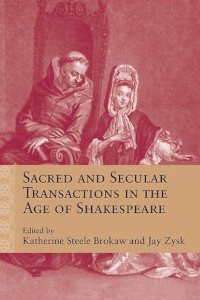 About the Book:
The term "secular" inspires thinking about disenchantment, periodization, modernity, and subjectivity. The essays in Sacred and Secular Transactions in the Age of Shakespeare argue that Shakespeare's plays present "secularization" not only as a historical narrative of progress but also as a hermeneutic process that unleashes complex and often problematic transactions between sacred and secular. These transactions shape ideas about everything from pastoral government and performative language to wonder and the spatial imagination.
Thinking about Shakespeare and secularization also involves thinking about how to interpret history and temporality in the contexts of Shakespeare's medieval past, the religious reformations of the sixteenth century, and the critical dispositions that define Shakespeare studies today. These essays reject a necessary opposition between "sacred" and "secular" and instead analyze how such categories intersect. In fresh analyses of plays ranging from Hamlet and The Tempest to All's Well that Ends Well and All Is True, secularization emerges as an interpretive act that explores the cultural protocols of representation within both Shakespeare's plays and the critical domains in which they are studied and taught.
About the Author:
Katherine Steele Brokaw is associate professor of English, chair of Literatures and Languages, and co-founder of Shakespeare in Yosemite.