Submitted by tkubo on Jan. 28, 2013
Psychological Sciences is a doctoral program that offers graduate training in three specialized areas: developmental psychology, health psychology and quantitative psychology. Our faculty are conducting research with an eye for solving real-world problems today.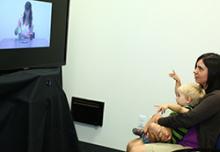 Developmental psychologists explore the changes that occur in human beings over their life span. Rose Scott's research on cognitive and linguistic development in children opens the door for a better understanding of autism and its treatment. Doctoral candidate Kandice Soraya Grote is researching the benefits of bilingualism in children, working under the supervision of Professor Jeffrey Gilger. Grote is finding that bilingual children have stronger cognitive skills than their monolingual peers, bucking the myth that juggling two languages causes learning delays.
Health psychology is a rapidly emerging field of research into how behavior plays into the origin, treatment and prevention of disease. Professor Anna V. Song, for example, examines risk behaviors in adolescents. She's currently working with researchers at UC San Francisco to analyze the effectiveness of anti-smoking campaigns on tobacco use and decline. She has also contributed to the U.S. Surgeon General's Report on teen smoking.
Quantitative psychologists develop new methodologies and evaluate existing methodologies to examine their behavior under conditions that exist in psychological data (e.g., with small samples). Professor William Shadish, who is among the university's founding faculty, is currently measuring the effects of educational interventions on individual students. This is noteworthy because studies are considered most reliable when they contain large groups of participants, but that's impossible to do with educational interventions, which are usually highly customized to each student's needs and abilities.
Though a small sampling of the research work currently under way in our program, the above faculty projects showcase the practical applications of the knowledge created within the Psychological Sciences Graduate Group
What sets psychological sciences at UC Merced apart from other universities is that our program is growing rapidly in the areas of developmental, health and quantitative psychology, where we add faculty and graduate students each year. In addition, most of the research we conduct aims to address societal problems, especially those prominent in the San Joaquin Valley of California. We do not offer training in clinical psychology or related fields, such as counseling or school psychology, nor do we offer master's-only training.