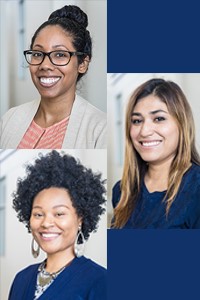 The Department of History & Critical Race and Ethnic Studies has the good fortune to welcome three new faculty members for 2018-2019. These dynamic women hail from the very top programs in their respective fields and firmly establish programmatic anchors in Africa and Mexico/Latin America while enhancing our department's global, transhistorical foci on comparative histories of gender, race, and agricultural communities. We are delighted that they have chosen UC Merced.
Maria Martin
Dr. Maria Martin, a native of Cleveland, Ohio. She holds a PhD in African American and African Studies with a concentration in history and women's studies from Michigan State University where she is known for her hip hop teaching methods. Dr. Martin recently returned from Nigeria, teaching in gender studies, where she previously conducted research, using oral histories and archives, that centered building an intellectual history of Nigerian women's activism in the nationalist movement.
She is a Bill and Melinda Gates Scholarship alumna and has won several Fulbright awards in addition to receiving an honorable mention from the Ford Foundation for her research. Dr. Martin has also been a volunteer grant writer, teacher trainer, and mentor for a non-profit organization serving young girls from the inner city of Detroit, Michigan since 2012.
Romina Robles Ruvalcaba
Dr. Ruvalcaba earned her PhD in History at the University of Chicago. She studies modern Latin American history with a specialization in rural Mexico. Her work analyzes agrarian and agricultural politics among ranching societies and the impact that these have on national and transnational life. Her interest in the subject emerges from her personal formative experiences in rural Jalisco and also her passion for literature, philosophy, and critical theory.
Sabrina Smith
Dr. Sabrina Smith is an Assistant Professor in History and Critical Race and Ethnic Studies. She obtained her BA in Anthropology and Spanish from UC Santa Barbara, and her MA and PhD in History at UCLA.
Dr. Smith studies colonial Latin American history, and specifically, the African-descended populations in Mexico. Her work broadly addresses the African Diaspora, slavery, and the construction of race and ethnicity in the Americas. She has a forthcoming article on transatlantic and interregional slave trading networks in New Spain, and she is working on expanding her research to include the traffic of enslaved people in Central America and South America.
Updated 2021