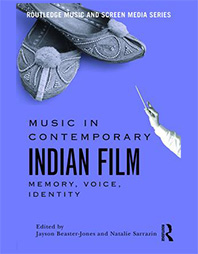 Date of Publication: 2017
About the Book:
Music in Contemporary Indian Film: Memory, Voice, Identity provides a rich and detailed look into the unique dimensions of music in Indian film. Music is at the center of Indian cinema, and India's film music industry has a far-reaching impact on popular, folk, and classical music across the subcontinent and the South Asian diaspora. In twelve essays written by an international array of scholars, this book explores the social, cultural, and musical aspects of the industry, including both the traditional center of "Bollywood" and regional film-making. Concentrating on films and songs created in contemporary, post-liberalization India, this book will appeal to classes in film studies, media studies, and world music, as well as all fans of Indian films.
About the Author:
Jayson Beaster-Jones is an Associate Professor of Music in the Global Arts Studies Program at the University of California, Merced. His research in anthropology and ethnomusicology focuses upon Bollywood film songs and the music industry of India. 
Link for Jayson Beaster-Jones' webpage: https://gasp.ucmerced.edu/content/jayson-beaster-jones