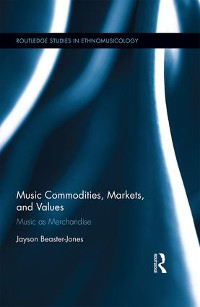 Date of Publication: 2016
About the Book:
This book examines music stores as sites of cultural production in contemporary India. Analyzing social practices of selling music in a variety of retail contexts, it focuses upon the economic and social values that are produced and circulated by music retailers in the marketplace. Based upon research conducted over a volatile ten-year period of the Indian music industry, Beaster-Jones discusses the cultural histories of the recording industry, the social changes that have accompanied India's economic liberalization reforms, and the economic realities of selling music in India as digital circulation of music recordings gradually displaced physical distribution. The volume considers the mobilization of musical, economic, and social values as a component of branding discourses in neoliberal India, as a justification for new regimes of legitimate use and intellectual property, as a scene for the performance of cosmopolitanism by shopping, and as a site of anxiety about transformations in the marketplace. It relies upon ethnographic observation and interviews from a variety of sources within the Indian music industry, including perspectives of executives at music labels, family-run and corporate music stores, and hawkers in street markets selling counterfeit recordings. This ethnography of the practices, spaces, and anxieties of selling music in urban India will be an important resource for scholars in a wide range of fields, including ethnomusicology, anthropology, popular music studies, and South Asian studies.
About the Author:
Jayson Beaster-Jones is an Associate Professor of Music in the Global Arts Studies Program at the University of California, Merced. His research in anthropology and ethnomusicology focuses upon Bollywood film songs and the music industry of India. 
Link for Jayson Beaster-Jones' webpage: https://gasp.ucmerced.edu/content/jayson-beaster-jones
Links to buy the book: