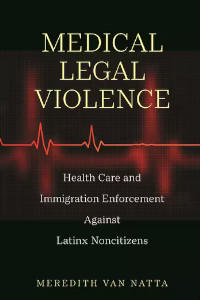 An urgent study on how punitive immigration policies undermine the health of Latinx immigrants
Of the approximately 20 million noncitizens currently living in the United States, nearly half are "undocumented," which means they are excluded from many public benefits, including health care coverage. Additionally, many authorized immigrants are barred from certain public benefits, including health benefits, for their first five years in the United States. These exclusions often lead many immigrants, particularly those who are Latinx, to avoid seeking health care out of fear of deportation, detention, and other immigration enforcement consequences. Medical Legal Violence tells the stories of some of these immigrants and how anti-immigrant politics in the United States increasingly undermine health care for Latinx noncitizens in ways that deepen health inequalities while upholding economic exploitation and white supremacy.
Meredith Van Natta provides a first-hand account of how such immigrants made life and death decisions with their doctors and other clinic workers before and after the 2016 election. Drawing from rich ethnographic observations and in-depth interviews in three states during the Trump presidency, Van Natta demonstrates how anti-immigrant laws are changing the way Latinx immigrants and their doctors weigh illness and injury against patients' personal and family security. The book also evaluates the role of safety-net health care workers who have helped noncitizen patients navigate this unstable political landscape despite perceiving a rise in anti-immigrant surveillance in the health care spaces where they work. As anti-immigrant rhetoric intensifies, Medical Legal Violence sheds light on the real consequences of anti-immigrant laws on the health of Latinx noncitizens, and how these laws create a predictable humanitarian disaster in immigrant communities throughout the country and beyond its borders. Van Natta asks how things might be different if we begin to learn from this history rather than continuously repeat it.