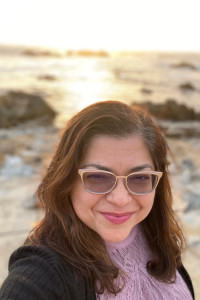 Associate Professor of Psychology
Mayra Y. Bámaca, Ph.D.  joined the University of California, Merced in the Fall of 2020 as an associate professor of Psychology. Prior to moving to UC Merced, she was an associate professor in Human Development and Family Studies at The Pennsylvania State University.
 
Dr. Bámaca immigrated from Guatemala at the age of 17. She completed her undergraduate degree in Psychology at Cal State University, Northridge. There, she met a wonderful professor (Dr. Carrie Saetermoe) who asked, "have you thought about getting a Ph.D.?" to which Dr. Bámaca replied, "What is a PhD.?" She went on to receive a master's degree in Human Development and Family Studies at the University of Illinois Urbana-Champaign and then completed her PhD in Family Studies and Human Development at Arizona State University.
 
Her research applies a cultural-contextual developmental framework to answer questions about adaptive parenting, cultural and contextual influences, and Latino children and youth development and adaptation. Her goal is to provide a more in-depth understanding of Latinx children's, youth's, and families' experiences across development. Specifically, her research lies at the intersection of culture (e.g., acculturation), developmental processes (e.g., autonomy, puberty) and contextual realities (e.g., family, peers, neighborhoods).
She is currently the Lead Associate Editor for the Section on parenting and family processes in the Journal of Applied Developmental Science and serves as Consulting Editor for the Journal of Research on Adolescence. Additionally, she is part of the Executive Committee co-leading the Society for Research in Child Development (SRCD) Early Career Millennium Scholars Program and serves as co-chair for the Undergraduate Mentoring Program for the Society for Research on Adolescence (SRA).