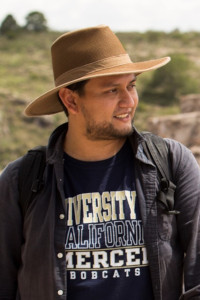 Lecturer in the Department of Anthropology & Heritage Studies
Manuel Dueñas is a Lecturer in in the Department of Anthropology and Heritage Studies at UC Merced. He received his PhD in Interdisciplinary Humanities from the same institution, and prior to this he received a MA in Latin American Studies, and a BA in Archaeology from Universidad Autónoma de San Luis Potosí, Mexico. He is an archaeologist focused on west-Mexico, director of an archaeological project in a site located in the Mexican state of Aguascalientes. His studies focus on long distant trade, world systems theory and household archaeology.
As a heritage scholar he has participated in initiatives for digital historic preservation, digital archaeology research and museum studies in Mexico's heritage sites creating virtual experiences for public-centered exhibitions. Currently, he is participating in the digital documentation and virtual visit of the UNESCO World Heritage site of Xochicalco, Mexico.
His research and teaching interface with the domains of public and digital archaeology, geographic information systems for heritage management, public-centered museography design and historic preservation.