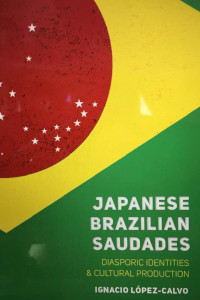 About the Book:
Japanese-Brazilian Saudades explores the self-definition of Nikkei discourse in Portuguese-language cultural production by Brazilian authors of Japanese ancestry. Ignacio López-Calvo uses books and films by twentieth-century Nikkei authors as case studies to redefine the ideas of Brazilianness and Japaneseness from both a national and a transnational perspective. The result suggests an alternative model of postcoloniality, particularly as it pertains to the post–World War II experience of Nikkei people in Brazil.
López-Calvo addresses the complex creation of Japanese-Brazilian identities and the history of immigration, showing how the community has used writing as a form of reconciliation and affirmation of their competing identities as Japanese, Brazilian, and Japanese Brazilian. Japanese in Brazil have employed a twofold strategic, rhetorical engineering: the affirmation of ethno-cultural difference on the one hand, and the collective assertion of citizenship and belonging to the Brazilian nation on the other. López-Calvo also grapples with the community's inclusion and exclusion in Brazilian history and literature, using the concept of "epistemicide" to refer to the government's attempt to impose a Western value system, Brazilian culture, and Portuguese language on the Nikkeijin, while at the same time trying to destroy Japanese language and culture in Brazil through the prohibition of Japanese language instructionin schools, possessing Japanese-language publications, or even speaking it in public.
Japanese-Brazilian Saudades contributes to the literature criticizing the "cognitive injustice" that fails to acknowledge the value of the global South and non-western ways of knowing and being in the world. With important implications for both Latin American studies and Nikkei studies, it expands discourses of race, ethnicity, nationality, and communal belonging through art and narrative.
About the Author:
Ignacio López-Calvo is UC Merced Presidential Endowed Chair in the Humanities and Professor of Latin American literature. He is the author of more than ninety articles and book chapters, as well as eight monographs and twelve edited books on Latin American and U.S. Latino literature and culture. He is the co-founder and co-executive director of the academic journal Transmodernity: Journal of Peripheral Cultural Production of the Luso-Hispanic World as well as the co-executive director of Palgrave Macmillan book series "Historical and Cultural Interconnections between Latin America and Asia" and the Anthem Press book series "Anthem Studies in Latin American Literature and Culture Series."