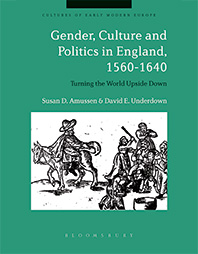 Date of Publication: 2017
About the Book:
Gender, Culture and Politics in England, 1560-1640 integrates social history, politics and literary culture as part of a ground-breaking study that provides revealing insights into early modern English society.
Susan D. Amussen and David E. Underdown examine political scandals and familiar characters-including scolds, cuckolds and witches-to show how their behavior turned the ordered world around them upside down in very specific, gendered ways. Using case studies from theatre, civic ritual and witchcraft, the book demonstrates how ideas of gendered inversion, failed patriarchs, and disorderly women permeate the mental world of early modern England. Amussen and Underdown show both how these ideas were central to understanding society and politics as well as the ways in which both women and men were disciplined formally and informally for inverting the gender order. In doing so, they give a glimpse of how we can connect different dimensions of early modern society.
This is a vital study for anyone interested in understanding the connections between social practice, culture, and politics in 16th- and 17th-century England.
About the Author:
Susan D. Amussen is Professor of History at the University of California Merced, USA. She is the author of Caribbean Exchanges: Slavery and the Transformation of English Society, 1640-1700 (2007) and An Ordered Society: Gender and Class in Early Modern England (1988). She is also the editor of Attending to Early Modern Women (1998; with Adele Seeff) and Political Culture and Cultural Politics in Early Modern England (1995; with Mark A. Kishlansky).
Link to buy the book: https://www.bloomsbury.com/us/gender-culture-and-politics-in-england-1560-1640-9781350020672/