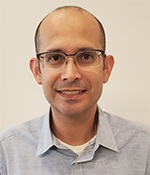 Professional Title:
Associate Professor of Sociology
Education:
Ph.D. - Sociology, University of Southern California
M.A. - Social Research, University of Warwick (UK)
B.A. - Sociology, University of the Pacific
Research Interests:
My research interests are centered around race, gender, immigration, labor, religion and local social movements. I have written two books on work in the post-incarceration experience, and more recently my research has examined low-wage work in the San Joaquin Valley (one of the most under-resourced regions in the nation, but also an internationally-renowned center of civic activism).
My research has included God's Gangs (winner of a major sociological book award), as well as several articles in leading journals, including: Sociological Forum, Journal for the Scientific Study of Religion, Social Problems, and Ethnic and Racial Studies. I am currently a section council member for the ASA Section on Body and Embodiment.
I serve as the faculty director of the UC Merced Community and Labor Center, the newest labor center in the UC system and one of the largest serving a rural region anywhere. We have produced timely and relevant research for various audiences, including scholars, advocacy groups, and policy-makers.