For additional information on the Merritt Writing Program at UC Merced, please visit the program's website.
Overview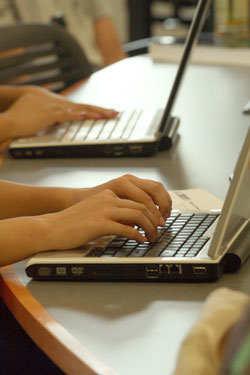 The writing minor enhances students' understanding of the theoretical, creative, interdisciplinary and professional aspects of writing, and helps them develop the vocabulary, syntax, style and voice appropriate to the practice of composition in diverse fields.
By using the writing process to strengthen their ideas, students develop strategies for participating in research, policy-making, professional advancement and creative expression. Study of language is a central activity, including engaging rhetorical elements common to all writing as well as conventions particular to specific disciplines. Overall, this program fosters a writing culture, integrating knowledge creation with communication.
The minor in writing is open to — and appropriate for — students majoring in any field, and prepares those proceeding on to graduate work for the challenges of advanced academic writing, critical reading and effective speech.
By representing the student's intensive work in writing, the minor also signals to prospective employers the student's distinguished preparation for the demands of the professional workplace.
Program Learning Outcomes
After completing the minor curriculum, students will be well prepared to do the following activities:
Demonstrate engagement with the multi-stage processes of critical reading, formal writing and public speaking;
Select and apply the appropriate conventions of personal, academic, or professional forms of expression;
Synthesize diverse perspectives through collaboration in academic discourse communities;
Craft language that reveals aesthetic awareness; and
Apply professional ethical standards to the research process and its public representation.
Last Updated: May 2016