For additional information on History at UC Merced, please visit the History website.
Overview
Students find that a minor in History makes an invaluable contribution to their studies. A knowledge of history provides an appreciation of the context within which important developments in politics, art, literature, philosophy and science or technology take place, and is necessary to an understanding both of their origins and their implications.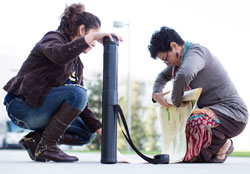 Program Learning Outcomes
Our faculty members work to prepare students for a holistic understanding of the knowledge and skills of the discipline. Upon completion of the degree, we expect students to demonstrate the ability to:
Recognize the processes by which societies, cultures and institutions change over time;
Describe particular historical developments and explain their wider context;
Critically read, analyze and synthesize primary and secondary sources;
Use methods of narrative and analysis appropriately for communicating historical phenomena; and
Identify the various contexts that shape the construction and use of historical sources and knowledge.
Alumni Success
Student graduates from the History program are engaging in graduate studies and careers. A few of these after-college endeavors are listed below.
Graduate School
Student graduates from History are studying at California State University, Northridge; University of California, Los Angeles, and the University of Southern California.
Careers
Student graduates from History are working in a variety of professional settings including private companies, schools and school districts and with members of the state Legislature.
Last Updated: May 2016