[For more information on this major is available on the Public Health website.]
Overview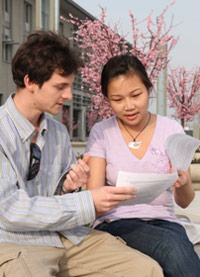 Public Health aims to promote health, prevent disease, prolong life and improve quality of life through organized efforts of society. Focusing on the health and wellbeing of populations, Public Health complements medicine's concern for individuals with diseases. Through activities ranging from basic research, to frontline efforts such as vaccination programs, promotion of healthy lifestyles and environments, disease control, and leadership on health policy formation, Public Health issues and outcomes touch the lives of people throughout the world. Public Health is an interdisciplinary field drawing on the natural and social sciences as well as the humanities. One of the most important themes in Public Health is the disparities in health observed in different groups, for example related to economic resources and race/ethnicity, which is a focus in this curriculum.
Program Learning Outcomes
Upon graduation, students who major in Public Health will:
Define public health and describe the roles and responsibilities of government, non-governmental organizations, and private citizens in maintaining public health.
Use the theories and principles of Public Health to explain a Public Health problem.
Apply public health research methods to conduct rigorous research on public health issues.
Describe causes and risk factors in the major areas of focus in public health, including but not limited to determinants of mortality and morbidity; leading causes of health disparities among regional, national, and global populations; and transmission for infectious and chronic diseases.
Identify and analyze scientific data and other information to assess complex Public Health challenges, with special consideration of strategies for health promotion at the individual, community, and policy levels, as appropriate.
Communicate effectively and persuasively, orally and in writing, particularly to convey complex concepts and information in a clear and concise manner.
Updated 2021