For additional information on Anthropology at UC Merced, please visit the Anthropology website.
Overview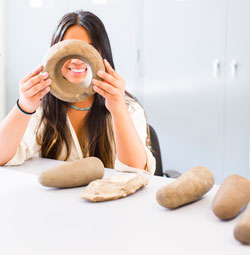 Anthropology is dedicated to understanding humankind's diversity, as well as what makes us uniquely human. Through the specific perspectives and methods of socio-cultural, archeological and biological anthropology, students learn how the human experience (past and present) is constituted through the interaction of social, cultural, political, material, historical, environmental and biological factors.
Anthropology strives for a holistic understanding of humankind and, depending on the questions asked and the means used to discover answers, anthropological knowledge can straddle the social sciences, humanities, and natural sciences.
The undergraduate major in Anthropology emphasizes how topics and issues central to the human experience such as migration, gender, power, health, kinship, race and identity are examined and understood through diverse anthropological methodologies.
In upper-division courses, students explore particular socio-cultural, archeological and biological perspectives on such issues in greater depth, and these courses may specifically engage perspectives from two or more sub-fields. Other courses may consider a range of topics within a specific geographical area, while acknowledging certain limitations to the area studies configuration of knowledge.
Undergraduate majors in Anthropology develop critical skills in thought, written and oral expression and the application of knowledge, as well as a valuable understanding of human cultural diversity. In an increasingly globalized world in which interaction with people of diverse cultures is becoming the norm, developing a cross-cultural understanding about the complexities of human societies past and present is what makes anthropology an ideal education for the 21st century. A bachelor's degree in Anthropology is valuable preparation for a career in law, medicine, education, business, government, museums, and various areas of nonprofit, public and international service, including public policy and cultural resource management.
The Anthropology program also provides a strong foundation for graduate study in any sub-field of anthropology. By offering undergraduate majors opportunities to work with faculty researchers and apply knowledge and skills to local communities, agencies and businesses through service learning and internships, students are further prepared for advanced study and successful careers.
Program Learning Outcomes
Upon graduation, students who major and minor in Anthropology will:
Possess and apply fundamental anthropological knowledge, including terminology, concepts, intellectual traditions, and theoretical approaches;
Identify and analyze common topics of research shared by the sub-fields of anthropology;
Understand ethics and responsibility in the practice of anthropology and in our roles as citizens;
Recognize and appreciate what it means to be human and how ethnographic, archeological, and biological knowledge contribute to that understanding;
Understand both qualitative and quantitative research methods as they apply to anthropological inquiry; and
Possess skills to communicate anthropological knowledge effectively through writing, oral presentation, and data presentation in various formats for diverse audiences.
Refer to the Curriculum Map to see the coherency between the Program Learning Outcomes and our course offerings. 
Program Assessment Results
Each year, our program assesses the learning experiences of students who major in Anthropology to ensure that students are building the necessary skills and knowledge-base in this discipline. The assessments allow our program to engage in continued creative and visionary curriculum and instruction approaches that ensure students are exposed to rigorous undergraduate training. Every discipline has a unique assessment schema and set of student performance benchmarks, reflecting the priorities of the discipline.
For the 2013-2014 program assessment, we examined how well students performed in understanding and engaging the subfields of the discipline (Program Learning Outcome 2). The student population sampled included only Anthropology majors at the junior and senior class levels (N=32). When assessing this PLO, we examined students' proficiency in understanding the scope, types of data and integration of the sub-fields, as well as expressing that understanding in writing. The students were assessed on these areas with exam questions from two courses. We found that:
Most Anthropology seniors achieved moderate proficiency or better in three of the four areas, including 86 percent achieving moderate proficiency or better in writing.
Most Anthropology juniors achieved moderate proficiency or better in understanding the scope and integration of the sub-fields.
We expect that our seniors write better in their final year than students at the junior level, as was demonstrated by the data. We also expect that students at the junior and senior levels demonstrate moderate proficiency or better in understanding the scope, data and integration of the subfields. We are pleased to see that most seniors and juniors met program expectations for PLO 2 with respect to two or more of the criteria upon which they were assessed.
We also collected feedback from graduating seniors and alumni through campuswide surveys. The results for those surveys are not yet available.
Alumni Success
Student graduates from our program are engaging in graduate studies and careers. A few of these after-college endeavors are listed below.
Graduate School
Student graduates from the Anthropology program are studying at the University of California, Merced, focusing on world cultures and at the University of Southampton in the UK focusing on archeological computing.
Careers
Student graduates from the Anthropology program are working in a variety of professional settings including national parks, a venture capital company and in research capacities at universities.
Updated 2021