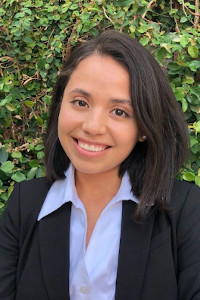 Maria exemplifies the best of UC Merced. She is an extremely talented, thoughtful, and mature individual who has demonstrated excellence as an undergraduate student majoring in the field of public health. It is always a pleasure to talk with Maria; her enthusiasm and positivity is contagious. She is genuinely interested in learning and improving her skills to make the world a better place. Maria shows intellectual curiosity, demonstrated, for example, by asking thoughtful questions that show how she has processed and connected information from different sources.
Maria graduated from UC Merced with a BA in Public Health in May 2019. During her time in the major, she distinguished herself in coursework and as a valued member of multiple faculty-led research teams.
In addition to her substantial contributions to Public Health research projects, Maria has established herself as a campus and community leader. She has proactively sought opportunities to gain knowledge about factors that affect public health, and to develop a wide range of skills to improve public health and health disparities.
Maria was one of only a handful of students from across campus who participated in the 2018 Latina Action Day, a one-day conference that brought 400 Latina leaders from across California to Sacramento to meet with elected officials about public policy affecting Latinas. The conference was organized by Hispanas Organizing for Political Equality (HOPE), a nonprofit, nonpartisan organization. Motivated by that experience, Maria has since participated in other policy advocacy and leadership training experiences offered by HOPE to advance political and economic parity for Latinas.