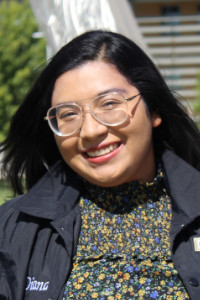 Diana Lara is an English major born and raised in Santa Clarita, with law school ambitions and a fondness for fandoms such as Harry Potter, the Kpop boy group VIXX, and the Marvel Cinematic Universe. A self-described "stan" herself, Diana's genuine appreciation for fandom and fan-created content is at the heart of her honors thesis, "We're in The End Game Now." With the help of her advisor, Dr. Humberto Garcia, Diana's paper defends fanfiction as a way for fans to enjoy the franchises and the content of their choice while still fighting against the status quo.
Diana is also an active leader on campus; in addition to being in the English Honors Program, she is a student lead at the TAPS department, a Senior Course Reader for Professor Mark Harris, Vice President of service in her fraternity Alpha Phi Omega, and was an Associate Justice for the ASUCM Court branch for two years. Diana is driven by her inner desire to help others and values resourcefulness, ambition, and cunning overall— which is what makes her a true Slytherin and a good friend. She has helped the students around her, whether it be with papers, case studies, or service opportunities in the community. These experiences have shaped her over her four years here at UC Merced, teaching her some of the skills that she will need in order to be a competitive lawyer.
Diana is slated to graduate in the Spring of 2020, with Honors and a B.A. in English.