World Heritage
Overview
The World Heritage major focuses on the natural and cultural legacy of the human past and how it is reflected today in places, landscapes and intangible aspects of cultures.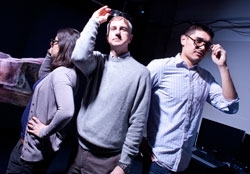 There is a specific focus is on studying and mapping monuments, buildings and cultural and natural sites and landscapes with remote sensing, 3D visualization technologies and geographic information systems (GIS).
Students may study World Heritage to strengthen their skills in the interpretation, documentation and management of places with an emphasis in either cultural or natural attributes.
Interdisciplinary education, diversity and cutting-edge research are key aspects of UC Merced. Focusing on the value of heritage as a cultural process, the World Heritage program stimulates students to develop a critical understanding of heritage and analyze both institutional and multi-vocal approaches to the study of past and present cultures. This approach engages students in this new field of study that bridges knowledge and methods from many disciplines such as art, architecture, history, anthropology, archeology, cognitive science, computer science, Earth science, geography, and global policies and management.
The World Heritage program prepares students for heritage careers in cultural and historical preservation, cultural and natural resource management and global policies on heritage or a combination of such disciplinary approaches, through the undergraduate minor, master's and doctoral programs in the Interdisciplinary Humanities Graduate Group (IHGG).
Program Learning Outcomes
The main task is to study the evolving technologies and methodologies of analysis, interpretation, documentation and presentation of heritage sites (natural and cultural), and to evaluate their potential to enrich contemporary societies in the light of the reconstruction of the past.
Successful students will be able to:
Develop a critical understanding of heritage as a cultural process and of the role of World Heritage in contemporary society;
Use field methods and digital technologies to investigate and document heritage case studies;
Dialog with different disciplines such as art, architecture, history, anthropology, archeology, cognitive science, computer science, management, and geography and global policies to learn how various academic disciples and methodologies contribute to World Heritage;
Become proficient in key principles and policies of natural and cultural heritage protection and management by mastering international policies, theoretical approaches, best practices and operating procedures and;
Experience visits to monuments, cultural landscapes, museums and historic sites and comprehend their value for local communities and humanity at large.
Last Updated: June 2016