About the Dean
About the Dean
Mark S. Aldenderfer is dean of the School of Social Sciences, Humanities and Arts (SSHA) at the University of California, Merced. Before joining the campus in January 2010, he was an archaeology professor at the University of Arizona. Prior to that, he spent 15 years in faculty and administrative roles at UC Santa Barbara. He's been editor of "Current Anthropology," one of the field's most prestigious academic journals, since 2005.
Aldenderfer has said he was drawn to UC Merced because it offers something different, not just to students, but also to faculty and staff. The very nature of housing the disciplines of social sciences, arts and humanities within the same academic body creates a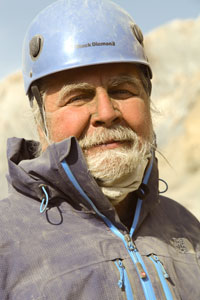 culture of crossing boundaries.
"I wanted to participate in a campus-building enterprise. You don't get opportunities like that much," Aldenderfer said. "I had no intention of being a dean at a place where I'm solely focused on building a department within a single discipline. I want to find ways to create structures that are multidisciplinary in nature."
An anthropological archaeologist, Aldenderfer was most recently featured in a National Geographic documentary, "Cave People of the Himalaya," which followed him and world-renowned Mt. Everest climber Pete Athans as they explored cave tombs in the Upper Mustang region of Nepal.
The research team has spent extensive amounts of time in Nepal in an attempt to understand how lowland people adapted to live in the highlands thousands of years ago, requiring biological changes for survival. Aldenderfer and other researchers have been examining mummies that are more than 3,000 years old and suspect three genes play a role in the adaptation.
Programs in anthropology, cognitive science, economics, history, literature and cultures, management, political sciences, psychology and sociology comprise SSHA's major offerings. The school also offers 17 minors. As dean, Aldenderfer oversees the school's budget and is responsible for allocating how funds are distributed within SSHA.